ACT/OCTA Affiliation
Association of Community Theaters (ACT)
Cincinnati Community Theaters are judged throughout the year by a panel of critics appointed by A.C.T., the Association of Community Theaters. In addition to constructive criticism – that is used to improve and maintain the quality of our productions – we receive recognition for excellence in direction, performance, and the technical aspects of our presentations. These are called Orchid Awards and are given out in June.
Ohio Community Theater Association (OCTA)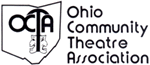 The Drama Workshop is also a member of O.C.T.A., The Ohio Community Theater Association. Each June the community theaters in Cincinnati and surrounding areas present a 30 minute excerpt of one of their current season plays for the O.C.T.A. Southwest Region Convention. If and when this excerpt is judged worthy it then travels on to the state convention of O.C.T.A. held each fall. Recognition for these efforts are called O.C.T.A. Awards.