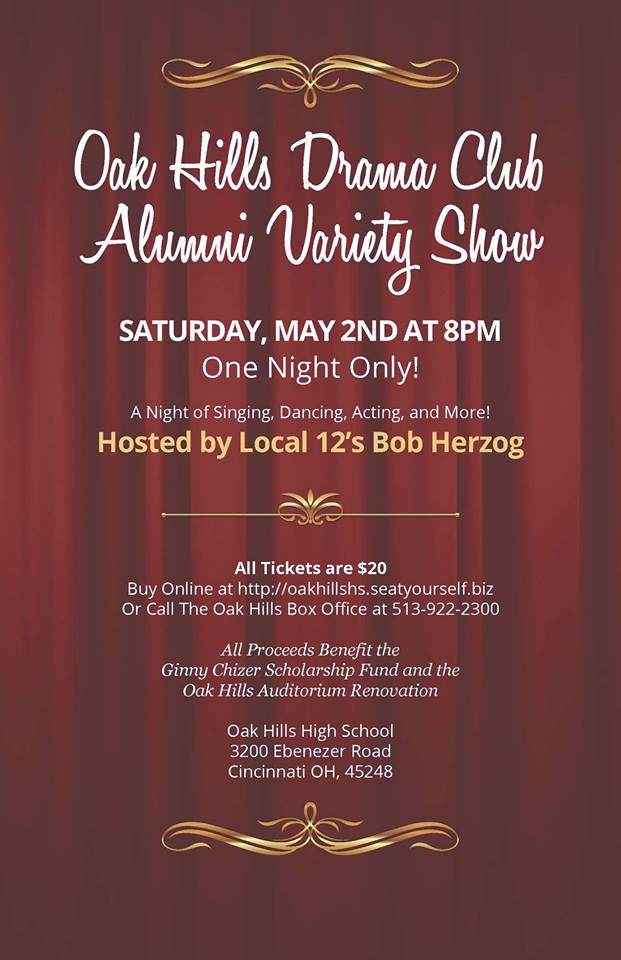 In order to raise funds for The Ginny Chizer Scholarship Fund and the Ione Holt Auditorium Renovation Campaign, Oak Hills High School Drama Club Alumni are hosting an EXCITING benefit at OHHS on May 2nd, MC'd by OHHS 1992 Alumnus Bob Herzog.
The Ginny Chizer Scholarship is a monetary award given to Oak Hills seniors who will be continuing their education. Ginny was a long-time member of The Drama Workshop.
The 50-year old Ione Holt Auditorium will be soon be undergoing a $2+ million renovation, complete with new seating, a new stage and even a prop/costume shop for future students.
There will be more than a dozen acts performed by OHHS Alumni. Watch your former classmates act, sing and dance! This will be the LAST performance in the current auditorium!
In addition to the variety show, there will be raffles and concessions available. Bring your cash!
If you interested in performing and/or helping with the event or donating something for the raffle baskets, please email OHHSDramaAlum@gmail.com for more information.