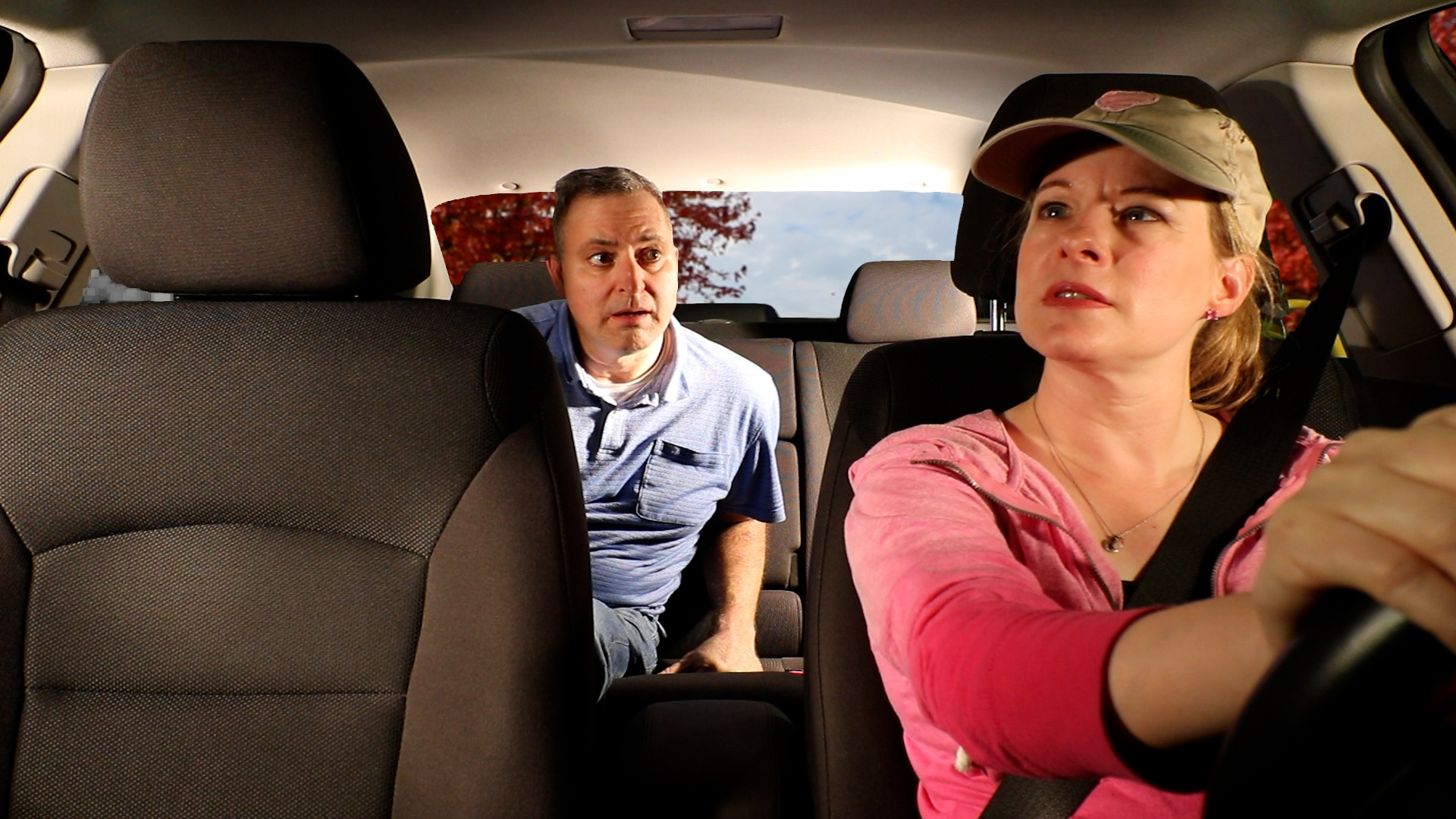 [Cheviot, OH, November 9] — A Better Place, the latest installment of The Drama Workshop's Home View Theatre video series is now available! The short film is based on an award-winning play by Eric Thomas and is directed by Scott Unes. Scott also stars in the video, playing a man who's having trouble getting over a breakup. He asks for a ride from a rideshare driver, played by Susie Unes. She agrees to take him on a voyage of the heart to get him to a better place, emotionally.
Of her character, Ms. Unes says, "There is a spiritual aspect to the Driver, in that she ultimately understands where she needs to take the Rider, but she first needs to feel the different emotions that he needs to experience." Actor/director Scott Unes says of the film, "I chose the work because I like the dynamics between the two characters. I wanted to show the character of the Rider turning inward and being led by the Driver on an inner journey."
The theatrical staging of A Better Place was produced at The Drama Workshop as part of Home Brew Theatre in 2019. Tickets to stream the video of A Better Place can be purchased at www.thedramaworkshop.org/homeview.
A Better Place is the fourth installment of The Drama Workshop's Home View Theatre series. Other offerings, all still available online, include Stranded Traveler, written and directed by Eric Thomas, a play about someone asking for money at a bus stop who is challenged to be honest about the request. It features Chris Bishop and Stephanie Klein. Local Legends was directed by Alexa Justice and features seven local storytellers relaying their favorite ghostly tales. Some of the stories are related to Cincinnati history. The storytellers are Adrianna Marie Boris, Jeb Brack, Greg Hand, Kat Jones, Kat Klockow, Carolmarie Stock and Bill Stringer. A Paranormal Investigation into The Raven, written and directed by Dennis Murphy, features Besty Bossart and CJ Bossart. Ms. Bossart plays the host of a paranormal investigation show, who is trying to get to the bottom of why a lovelorn man is being tortured by a phantom raven.
Two offerings remain in the six-video series. Amanda Emmons-Shumate will direct Denise's Do-Over which will be released in early December. This comedy about video dating was written by Susan Decatur and features Peggy Allen, Chris Bishop, Rob Bucher, Kristy Rucker, Jim Swartwout and Jim Waldfogle. It is an online adaptation of the play that appeared on The Drama Workshop's stage as part of Home Brew Theatre in 2019. The final video in this series will be The Gift of the Magi adapted for the screen and directed by Dennis Murphy and starring Ray Lebowski, Anna Hazzard and D'Waughn Hazzard.
Tickets for any of the Home View productions can be purchased at www.thedramaworkshop.org/homeview or by calling the box office at (513)598-8303. Single videos are $5 or you can subscribe to the whole series for only $25.